Russia rejects UN SC resolution on Syria probe
Comments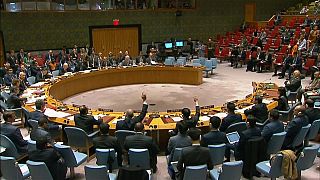 Russia has rejected a United Nations Security Council resolution to investigate alleged chemical weapons attacks in Syria.
The US-backed draft resolution would have extended the joint mandate of the Organization for the Prohibition of Chemical Weapons (OPCW) and the UN's Joint Investigative Mechanism (JIM) which was set to expire on Friday (November 17).
Vassily Nebenzia, Russia's permanent representative to the UN, said the draft resolution was not balanced and had other purposes.
Nikki Haley, the United States envoy to the UN, condemned Moscow's veto:
"Russia has killed the Joint Investigative Mechanism which has overwhelming support of this council. and by eliminating our ability to identify the attackers Russia has undermined our ability to deter future attacks. Assad and ISIS will no longer be on notice for the use of chemical weapons by Russia's actions today."
A rival resolution drafted by Moscow on the same issue was also rejected by the UN Security Council after failing to get the required number of votes.
"Some council members refuse to support our draft and now they have full responsibility for terminating the JIM's work,"Nebenzia said. "This just proves again that the anti-Damascus fever is the only real priority for them and that they have manipulated the JIM for their own purposes."
The Security Council planned a closed session on Friday to discuss a Japan-drafted resolution to extend the Syria probe.
#UPDATE This is the tenth time that Russia has used its veto power to stop UN Security Council action that targeted its ally Syria https://t.co/br223Mn7ckpic.twitter.com/QMdHs3er3k

—

AFP

news agency (@AFP) November 16, 2017