US holds naval drill in South Korean peninsula
Comments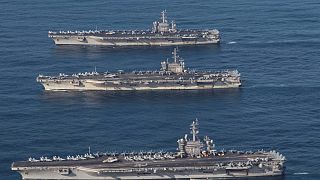 Donald Trump's 12-day tour of Asia has not lessened tension between the US and North Korea.
Events took a personal turn over the weekend with the two leaders trading personal insults.
As the president took to social media to criticise Kim Jong-un, three US aircraft carriers were taking part in a military exercise off the Korean peninsula.
"When you look at what's going on in the world, a message that it sends doesn't hurt either. The USA is in a unique position to be able to put together this kind of military power to just show folks out there that that military power exists if it becomes necessary," said Rear Admiral Gregory Harris. "We want to be able to reassure allies and partners in the region that we are here for you, that we have been here for you for over seventy year, we will be for you for the next seventy years."
The drill is the first in a decade in the region involving a three-carrier strike force.
North Korea has complained to the United Nations on Monday about the military exercises by the US, describing it as "the worst
ever situation" because U.S. nuclear war equipment had been deployed ready to strike.