Saudi foreign minister calls for sanctions against Iran
Comments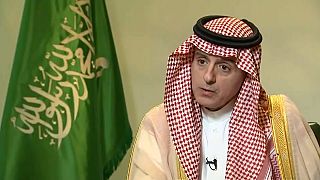 Saudi Arabia described it as an 'act of war'. Crown Prince Mohammed bin Salman linked Iran to the ballistic missile fired from Yemen towards the Saudi capital. The missile was intercepted and destroyed.
In an interview with CNBC, Adel Al-Jubeir, the Saudi minister for Foreign Affairs, said Iran was the number one sponsor of state terrorism and called for action from the international community.
"We would like to see the International Atomic Energy Agency do a much more robust job in dealing with this. That's with regard to the nuclear agreement," he said. "The other part has to do with Iran's behaviour, its support for terrorism and its ballistic missile programme, both of which are violations of international resolutions. And so we would like to see sanctions on Iran for its support of terrorism and sanctions on Iran for violating the ballistic missile resolutions of the United Nations."
The minister also blamed the rise in tension with Lebanon on Iran. He says Teheran is meddling in Lebanon's affairs via its proxy, Hezbollah.
"Hezbollah has put roadblocks in front of every initiative that Prime Minister Hariri has tried to implement," he claimed. "Hezbollah pretty much hijacked the Lebanese system and Hezbollah has been the instrument that Iran uses to dominate Lebanon, the instrument that Iran uses to intervene in Syria, with Hamas and with the Houthis. So we see Hezbollah's mischief all over the region."
The minister wants the world to designate Hezbollah as a terrorist organization, but stopped short of saying Saudi Arabia was willing to cut ties diplomatic ties with Lebanon or take direct action.