Adidas scores own goal in Spain with controversial football shirt
Comments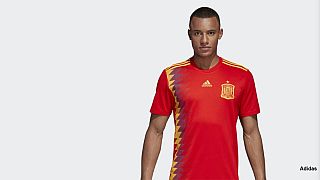 Sportswear giant Adidas has scored an own goal after unveiling special football shirts for next summer's World Cup.
Its new designs, launched ahead of the football extravaganza in Russia, have stirred emotions in Spain. It comes at a particularly sensitive time: the country is in the midst of a constitutional crisis after Catalonia's bid to split from Madrid.
The shirt for Spain has a strip of yellow and blue that looks like purple down its side, which combined with the predominant red, are the colours of the second Spanish republic.
Vamos tod@s#BoicotCamisetaRepublicanapic.twitter.com/DkHAbq1VQO

— Ángeles RendóN (@AngelesRendn1) 6 de noviembre de 2017
Twitter users were quick to point out the similarities with the republican flag in a joking manner. But it was only after the leader of the Podemos Party Pablo Iglesias said "it had been a long time since the Spanish football team hadn't worn such a pretty jersey" and the leader of Izquierda Unida Alberto Garzón commented how much he liked the jersey, that the political storm started.
Hacía tiempo que la selección española no vestía una camiseta tan bonita. Tod@s con la roja ? pic.twitter.com/OAMPk7vW0o

— Pablo Iglesias (@Pablo_Iglesias_) November 6, 2017
La nueva camiseta de la selección española tiene su encanto. Incorpora un azul casi morado, y… https://t.co/UzJc1ct1jx

— Alberto Garzón (@agarzon) November 6, 2017
Started in 1931, the Second Spanish Republic lasted until the outbreak of the Civil War in 1936. Nowadays, the republican flag is associated with the political left.
Spanish journalist Eduardo Inda said that he found the jersey "disgusting" and that he thought Adidas should take the jersey off from the market.
Adidas told Euronews in a statement there was no political intent in its shirt designs, which, the company said, were approved more than a year ago. The firm added it had no plans to withdraw any of the shirts.
But some people still find the new jersey "scandalous".
Demostración gráfica del paso atrás como sociedad dado por #España. En 1994 esta camiseta de #LaRoja ni fu ni fa, la de 2017 un escandalazo pic.twitter.com/oOpisOrS8u

— Pedro Lázaro Gómara (@plazaro67) November 7, 2017
And others demand a boycott of Adidas over the new design.
A mí no me fastidiéis pero cuando la camiseta de Adidas de la Selección Española es aplaudida por Pablo Iglesias, es que algo falla y está mal en ese diseño.#BoicotCamisetaRepublicana#BOICOTADIDASpic.twitter.com/6L19Hp5Fh3

— Foro GuardiasCiviles (@forogc) November 6, 2017
Adidas also released the jerseys of other countries they represent like Colombia, Argentina, Germany, Japan, Sweden, Belgium, and Russia, which were greeted with a lukewarm reaction.