With complex legal battles come complex Catalan names
Comments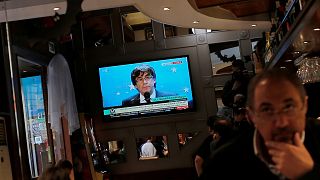 Journalists at euronews face not only the difficulty of having to explain a complex legal battle to international audiences but also the hardship of having to pronounce the name of the ex-president of Catalonia, Carles Puigdemont, which appears every day among the top headlines.
The name itself is so complex that journalists from other languages often come see the Spanish service to learn how to say the name of the ousted president who is now in Belgium.
Even if our journalists are well-trained to pronounce foreign names, Carles Puigdemont is definitely not easy for non-Spanish speakers.
The journal Le Figaro called on a professor of Catalan to explain how to say the name correctly.
In Greek, for example, it is also complicated to write the name in a way that makes phonetic sense using the country's alphabet. Our colleagues from the Greek service have found at least six ways to write the ex-president's name.
- Κάρλας Πουτζντεμόν
- Κάρλας Πουτζδεμόν
- Κάρλας Πουτζντεμόντ
- Κάρλες Πουτζντεμόν
- Κάρλες Πουτζδεμόν
- Κάρλες Πουτζντεμόντ
The same problem is found in Russian, where often the name is written Карлес Пучдемон or in Persian where it's written کارلس پوجدمون and Arabic: كارلس بوغديمون،
One of the main difficulties is to know whether to pronounce the name in Spanish 'Carles' or Catalan, which is closer to 'Carlas.'
The website Forvo has multiple examples of how to pronounce the name correctly in Catalan.