Second Republican senator attacks Trump
Comments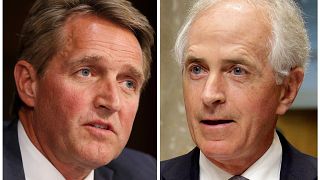 A second US Republican senator has openly criticised Donald Trump accusing the president of debasing US politics and the country's standing abroad.
Jeff Flake from Arizona has announced he will not stand for re-election next year in protest at Trump's tendency to scapegoat and belittle people using social media.
"The notion that one should stay silent as the norms and values that keep America strong are undermined and the alliance are routinely threatened by the level of thought that goes into 140 characters. The notion that we should say or do nothing in the face of such mercurial behavior is a historic and I believe profoundly misguided."
Flake's attack follows that of Tennessee Senator Bob Corker who became the focus of news when he lashed out at Trump saying the President has "great difficulty with the truth". Corker too has decided to quit.
Sen. Corker is the incompetent head of the Foreign Relations Committee, & look how poorly the U.S. has done. He doesn't have a clue as…..

— Donald J. Trump (@realDonaldTrump) October 24, 2017
Same untruths from an utterly untruthful president. #AlertTheDaycareStaff

— Senator Bob Corker (@SenBobCorker) October 24, 2017
White House press secretary Sarah Huckabee Sanders:
"I think that the people both in Tennessee and Arizona supported this president and I don't think that their numbers are in the favour of either of those two senators (Flake and Bob Corker) in their states. And so I think that this was probably the right decision."
While playing down the feud it has overshadowed Trump's efforts to build support for his propsed tax reforms.
Isn't it sad that lightweight Senator Bob Corker, who couldn't get re-elected in the Great State of Tennessee, will now fight Tax Cuts plus!

— Donald J. Trump (@realDonaldTrump) October 24, 2017