Kidnapped US-Canadian couple return to Canada with family
Comments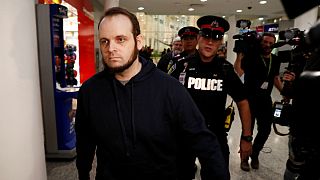 A kidnapped U.S. Canadian couple held hostage in Pakistan for nearly five years has returned to Canada.
American Caitlan Coleman and her Canadian husband, Joshua Boyle, were kidnapped while backpacking in Afghanistan in 2012 by the Taliban-allied Haqqani network.
Speaking on his arrival in Toronto Boyle heavily criticised his abductors.
"The stupidity and evil of the Haqqani network's kidnapping of a pilgrim and his heavily pregnant wife engaged in helping ordinary villagers in taliban controlled regions of Afghanistan was eclipsed only by the stupidty and evil of authorising the murder of my infant daughter 'martyr Boyle'," said Boyle in a prepared statement. "And the stupidity and evil of the subsequent rape of my wife, not as a lone action by one guard, but assisted by the capitain of the guard and supervised by the commandant Abu Hajjar of the Haqqani network".
The couple had three children while in captivity. One of the children was in poor health and had to be force-fed by their Pakistani rescuers
The Taliban and Haqqani network are allied and share the same goals of forcing out foreign troops and ousting the U.S.-backed government in Kabul but they are distinct organizations with separate command structures.