Mixed reactions in Barcelona to Spanish PM's veiled 'threat'
Comments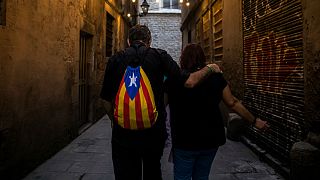 There's been mixed reactions in Barcelona to Prime Minister Rajoy's veiled threat to suspend Catalan autonomy.
Some are worried about a national police intervention, others see it as the reopening of a dialogue.
"Suspending the autonomy will not work. The people will not understand it. It is ridiculous," said Alicia Gallego, a resident of Barcelona.
Jose Alfaro said he thought there was enough time to reopen dialogue:
"It's a new chapter. We have to wait and see. I don't think that anything will happen in the short term."
Parliamentarians in the Catalan Parliament have reacted cautiously to the call from the Spanish government for clarity from the head of the wealthy Catalonia region on his independence bid.
Eva Granados (PSC MP)
"We believe the response is measured and correct and now we expect Puigdemont to provide a clearer answer (about independence)."
Marta Riba (MP Catalunya Si Que es Pot)
"It is never too late to start a dialogue, but the greater the tension the more difficult it is to begin talking. Better to do it now than with the application of article 155 of the Constitution."
It is the first time that Rajoy has openly said that Article 155 of the Spanish constitution will be the next step taken by the government if Catalan authorities don't backtrack. The ball is once again the in the Catalan parliament's court.