US scientists win Nobel medicine prize for work on circadian rhythms
Comments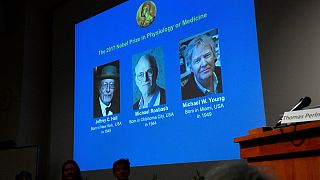 U.S. scientists Jeffrey Hall, Michael Rosbash and Michael Young have won the 2017 Nobel prize for medicine.
Together they unravelled molecular mechanisms that control our internal body clocks.
These help explain how people experience jet lag when their internal circadian rhythms get out of sync, while also having wider implications for disorders ranging from insomnia to depression to heart disease.
The three scientists studied fruit flies and discovered in them a gene that controls a protein which increases at night and decreases during the day.
Medicine is the first of the Nobel Prizes to be awarded each year by the Nobel Assembly in Stockholm.
The 2017 #NobelPrize#Medicine "for their discoveries of molecular mechanisms controlling the circadian rhythm" pic.twitter.com/JWwo5kDfrA

— The Nobel Prize (@NobelPrize) October 2, 2017
The prizes for achievements in science, literature and peace were created after the dynamite inventor and businessman Alfred Nobel died in 1896.
He gave instructions on setting up the awards in his will and they've been awarded since 1901.