Hugh Hefner to be buried next to Marilyn Monroe
Comments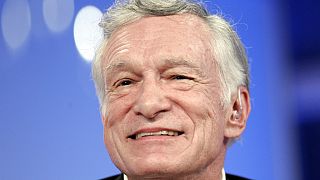 Playboy founder Hugh Hefner will be buried in a crypt next to Marilyn Monroe's in the Westwood Village Memorial Park Cemetery, Los Angeles.
Hefner bought the crypt next to Monroe's in 1992, 30 years after her burial, for $75,000 (€63,600).
Monroe featured on the first cover of Playboy, in 1953. The first issue of the magazine sold almost 50,000 copies straight away.
Marilyn Monroe helped build #HughHefner 's Playboy empire by being the very first centerfold. Now he will be laid to rest next to her. RIPpic.twitter.com/ECfxarysRi

— The Marilyn Diaries (@MarilynDiary) September 28, 2017
"I'm a believer in things symbolic," he told the LA Times. "Spending eternity next to Marilyn is too sweet to pass up."
However, the two never met face-to-face. "She was actually in my brother's acting class in New York," he said on 'Piers Morgan Tonight' in 2011. "But the reality is that I never met her. I talked to her once on the phone, but I never met her. She was gone, sadly, before I came."
Hugh Hefner died aged 91 on Thursday (September 28) of natural causes at his Playboy Mansion in Chicago.