Erdogan cranks up warnings after Iraqi Kurdish independence vote
Comments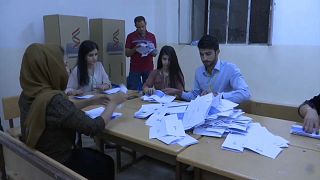 Turkey's President Recep Tayyip Erdogan has warned that Iraqi Kurds will go hungry if Ankara imposes economic sanctions after Monday's referendum on independence in Iraq's semi-autonomous Kurdish region.
Initial results indicated 72 percent of eligible voters had taken part and an overwhelming majority, possibly over 90 percent, had said "yes" – according to Erbil-based Rudaw TV.
But since polls closed on Monday evening the region's neighbours have repeated warnings that they won't accept the vote as legitimate.
Kurdish leaders have hailed it as historic, but Turkey's President Erdogan has called it a threat to national security.
As newspapers in Ankara hinted at military intervention, the president said all options were on the table and Turkey wouldn't hesitate to use the means at its disposal.
Erdogan has repeatedly threatened economic sanctions, giving few details. But his latest comments were some of the harshest yet.
"(They) will be left in the lurch when we start imposing our sanctions," the Turkish president said in a speech broadcast live on television.
"It will be over when we close the oil taps, all (their) revenues will vanish, and they will not be able to find food when our trucks stop going to northern Iraq".
The Iraqi government has said it won't hold talks with the Kurdistan Regional Government (KRG) over results off the referendum it calls "unconstitutional". KRG President Masoud Barzani says the vote is not binding, but designed to provide a mandate for negotiations with Baghdad and neighbouring countries over the region's peaceful secession from Iraq.
But in Turkey's Kurdish-majority southeast, residents have welcomed the referendum in the neighbouring territory.
In Diyarbakir there've been no visible celebrations after the vote; local media have called for the border with Iraq to remain open.
"As a Kurd living in the other part of Kurdistan, that referendum made me so happy. Now wherever we go in the world we know that we have a state. We want the Kurdish government in Iraq to declare independence very soon," said one resident, Dilges Osman.
Away from the calm in the streets, at least one witness reported seeing Iraqi and Turkish troops holding military exercises in southeastern Turkey.