Angela Merkel's 'hollow victory'
Comments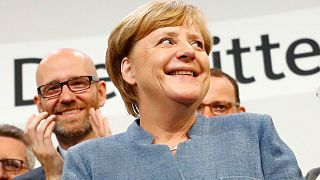 "We are in charge of forming a government and without our party there will be no government."
Angela Merkel addressed supporters in bullish mood as she claimed victory on Sunday night. ( Sept.24) And the win for the soon-to-be-fourth time German Chancellor was greeted with enthusiasm by her supporters but there are major concerns. Her conservative CDU-dominated alliance has hemorrhaged support to the anti-immigration "Alternative for Germany" (AfD).
"Compared to other countries like our neighbours – let's say France, Poland, the Netherlands, it's lucky that in percentage terms, it has been a relatively moderate success by the AfD," said one CDU member. "But it is a shock," she admitted. "Not only because the AfD have mobilised non-voters, but they have also taken CDU voters. This is where we need to think things through: how can we get back these 1 million or so voters back to our camp."
Others are playing up the virtues of having different coalition partners with the possibility of broadening government priorities.
"We need a government that thinks of the future, that tackles the ecological as well as the economic challenges and I think that for this task a small coalition is the right course," enthused a young Merkel backer.
Anja Bencze was in Berlin reporting for euronews:
"Germany has voted and the CDU/CSU alliance has again got a mandate to govern, but with heavy losses. Angela Merkel is facing long and difficult talks to form a government that will be able to get things done. One of the biggest challenges in the next four years is the fact that AfD will now be in parliament."