Norway under fire for deporting woman who was whipped in Iran
Comments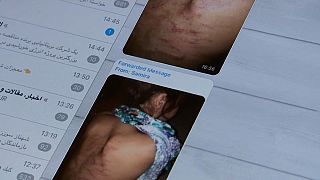 Social media is subjecting Norway's ultra-strict attitude with asylum seekers to public trial after an Iranian woman was deported and given 80 lashes for allegedly consuming alcohol.
Thirty-six-year-old Leila Bayat had lived in Norway for eight years, but was expelled in March this year, separating her from her 13-year-old son. Her punishment in Iran was on Tuesday. A friend in Norway contacted her.
"Morning, Leila, how are you?"
"Not at all well. It's is very, very painful. I was whipped 80 times, I can hardly talk abut it".
Norway's Immigration Ministry did not believe Leila's reasons for demanding asylum. Now she intends to take it to court, and she has allies.
"There's a breach on the Refugee Convention and there's a breach on Article 3, the right to protection from being returned to an area where one may risk inhumane treatment or torture. So, yes, according to this, the Norwegian authorities have broken these international rules," says her Norwegian lawyer, Preben Kløvfjell.
Amnesty International has also taken up her case.
"They have to prove and document that they are not lying, because we believe that people who are seeking asylum in Norway are cheats. And that's the political line which the Norwegian authorities, the Norwegian government, has defined over the last few years," says Amnesty's Norwegian Political Advisor Gerhard Folkvord.
Norway puts the burden of proof on individuals, some fleeing the world's most repressive regimes, whose crimes are often well-documented elsewhere.
Leila's case is beginning to make headlines, so change may come from her suffering, even if right now it is hard to bear