Young people in Germany back Angela Merkel and lean green
Comments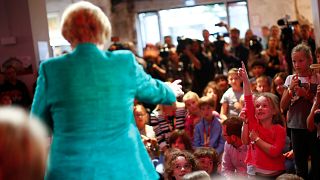 It offers a glimpse of Germany's future: a week before the federal elections, 200,000 young people took part in a youth poll.
In it, Chancellor Angela Merkel's Christian Democratic Union came out on top, as she's expected to do amongst adults on 24 September.
The U-18 poll results
28% of the under-18s questioned said they'd vote for Merkel, about 10% less than the 39% of adults who currently say they will back her.
Good morning from #Germany where Merkel's CDU came first in U18 election (children and young people) w/ 28.4% of the vote. AfD scored 6.8%! pic.twitter.com/46WUvZcEvn

— Holger Zschaepitz (@Schuldensuehner) September 16, 2017
17% would vote for the greens, compared to just 7% of adults.
Far right has mixed showing
Commentators are concerned that the far-right Alternative for Germany (AfD) party will win seats in the Bundestag for the first time next week.
Alternative for Germany (AFD) likely to form opposition after election. pic.twitter.com/OS50a2NvWF

— Ezedi (@ydidunyway) September 18, 2017
Amongst the under-18s, in some regions the party would fail to make the 5% bar. However, in two eastern federal states, Saxony and Thuringia, nearly 16% of young people said the'd vote for the AfD.
Informal news conference
At the weekend Merkel wooed the voters of the future at a former department store in Berlin by answering questions on what she would do if she wasn't Chancellor, saying:
"If I didn't have to train and practice everything, I'd love to be an astronaut who flew around the Earth, so I could see it all from above."
She revealed that her preferred colour was blue, and her favourite animal a hedgehog.
If her news conference told us little about her future policies, it did reveal that the German leader's favourite meal was an Italian classic: spaghetti bolagnaise.