2 die as boat carrying Rohingya Muslims capsizes
Comments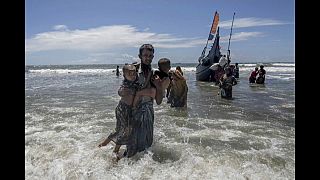 At least two people have drowned after one of the dozens of boats carrying Rohingya Muslims from Myanmar to Bangladesh capsized.
It brings the number of deaths from drowning in the Naf River to 88 since the violence in Rakhine State flared up again in late August.
The United Nations secretary-general has accused Myanmar of "ethnic cleansing" and human rights violations and called for urgent steps to end the violence.
Speaking earlier, Federica Mogherini, the European Union Foreign Policy chief said "We are very much aware and concerned about the excesses during the security operations conducted by Myanmar security forces. This has led to a massive flow of refugees into Bangladesh, one of the most terrible refugee crises of our time. This situation is completely unacceptable and risks destabilizing the wider region."
Almost 400,000 Rohingyas have fled to Bangladesh to escape persecution, thousands more continue to pour in across the border.
Aid workers say the basic supplies being delivered is not enough and wider support is urgently needed.
370,000+ Rohingya have fled in less than 3 weeks. Our new evidence points to a mass-scale scorched-earth campaign. https://t.co/OATRjp7eMzpic.twitter.com/68H3se9DQh

— AmnestyInternational (@amnestyusa) September 14, 2017