South Asia struggles after deadly monsoon flooding
Comments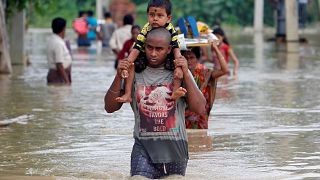 Fears are rising for hundreds of villages stranded by monsoon flood waters in large areas of Nepal, Bangladesh and India.
At least twelve hundred people have died and more than forty million people have been affected since June the UN estimates.
#Sentinel1 provides a glimpse of the massive flooding in Bangladesh and India. Flooded areas show up in blue. ESA_EO</a> 1/n <a href="https://t.co/tj9DtwOhDq">pic.twitter.com/tj9DtwOhDq</a></p>— Stef Lhermitte (StefLhermitte) August 31, 2017
About a third of Bangladesh is underwater and the International Red Cross says the floods are the worst in forty years.
In Nepal some of the poorest areas have been flooded where people have houses made of mud and live off the land.
The International Red Cross and Crescent and other aid groups are handing out food aid whilst thousands of people have sought shelter in camps.
And there are now fears of outbreaks of waterborne diseases such as cholera.
The Indian city of Bhubaneshwar has been inundated with floodwater and in Bihar state nearly a million people have been forced from their homes.
The Indian government is being criticised for the weak emergency response to the monsoon flooding, which happens every year.
Critic say the focus should be on creating a better early warning system and trying to prevent the flooding rather than simply giving out aid.