FARC rebels look to political future
Comments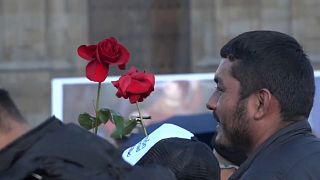 Colombia's FARC rebels are now a political party. The former Revolutionary Armed Forces of Colombia, whose political party will be called the Revolutionary Alternative Common Force,
ended its part in a war that has killed more than 220,000 people under a 2016 deal which granted amnesty to most of its fighters. But the country's peace process is ongoing with hundreds of former Farc rebels still awaiting trial.
According to Ariel Avila, Director of the Peace and Reconciliation Foundation in Bogota, some of them could hold public office even after they've been pardoned
"If a rebel becomes a congressman and after a year is convicted, then he will still be able to stay in politics provided he tells the truth, asks for forgiveness, makes reparations and gives assurances that he will not re-offend" Avila explains.
Alongside political concerns in Colombia, there has also been a worrying increase in the murder of former Farc rebel leaders. Avila says the country is facing a number of tough challenges if there is to be real peace.
"Colombia has a big problem. We have a very big fight on our hands for land, truth, and politics," he says. "There are people in the regions – regional elites – that benefitted from this conflict, and who are willing to kill anyone in order to keep the status quo. That is why some people don't want the peace process to work."
Rebels and some of their relatives have also been killed leading to calls by FARC for government protection. Some people have pointed the finger of blame at paramilitary groups in the country.
We believe that if the government is honest and truly committed to the peace process then one of their first objectives must be to dismantle the country's paramilitary system," explains former FARC rebel, Fredy Pastor alias 'Jair Romero'.
Héctor Estepa, Euronews correspondent in Bogota, says Farc is now entering a very difficult phase. "It must work out how to sell itself as a political party after 53 years of war and thousands of deaths." he explains. "They will tone down their spoken words, although they are not prepared to give up their revolutionary ideals."