How Hollywood's eye turned to the Holocaust
Comments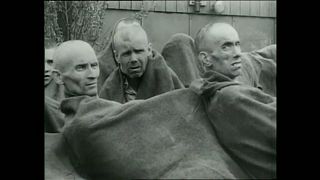 An exhibition detailing efforts by three leading Hollywood directors to document Nazi atrocities has opened this week at the Los Angeles Museum of the Holocaust.
Directors John Ford, George Stevens and Samuel Fuller created shocking yet historically important depictions of the liberation of Nazi German concentration camps, later used at the Nuremberg war crimes trials.
The show's curator, Christian Delage, says they made the films as evidence in case there was any denial of the horrors of the holocaust: "If you think of what happens today, not so far, because of Charlottesville and things like that and the importance of the image in some cases concerning African-American people brutalized by the police, you have an idea that this new thing at the time in 1945 to film in order to have evidence and then to see some trials using this kind of footage is really something that concerns us today."
Holocaust exhibit examines Hollywood documentation of atrocities https://t.co/kw7ItaY2SLpic.twitter.com/tLmmEjiGtH

— The Jerusalem Post (@Jerusalem_Post) August 30, 2017
Up to six million Jews died during the Holocaust, many sent to death camps such as Dachau, which is profiled in one of the exhibit's videos.
Filming the camps: From Hollywood to Nuremberg runs until April 2018.