Vladimir Putin visits Hungary for trade talks and judo championships
Comments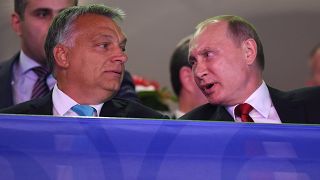 Activists of the opposition party Momentum brought Budapest back in time yesterday as they replaced street names with ones from the communist era.
Its activists are pro-European, and are concerned about Vladimir Putin's second visit to Hungary this year. They also handed out flyers resembling a communist era daily newspaper.
President of Momentum; Andras Fekete-Gyor said: "Putin's influence in Hungary is real, so is the threat of Viktor Orban as he pushes the country into the arms of Russia. Momentum wants a future for Hungary in Europe and so have the Hungarians since Stephen I.''
Putin's visit to Hungary has divided local opinion. The Russian leader is in town to visit the Judo world championships which are taking place in the city and also to meet the Hungarian Prime Minister Viktor Orban to discuss the expansion of Hungary's Paks nuclear power plant.
Putin said work at the plant will begin at the beginning of 2018.