US Navy orders 'operational pause' after warship collision
Comments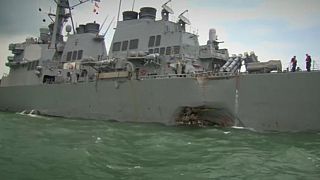 The US Navy has ordered an "operational pause" across the entire fleet, to avoid further accidents after the collision involving a warship off the coast of Singapore.
The US Defence Secretary James Mattis has promised a wider investigation into US naval operations.
The search is underway for ten US sailors missing after their warship collided with an oil tanker off the coast of Singapore. Five further people were injured in the crash.
Guided missile defender, the John S. McCain sustained damage to its hull below the waterline as it was making its way to a routine port visit. The large dent caused flooding to nearby compartments, including crew berths, machinery and communications rooms. It was, however, able to make its way to nearby Changi Naval Base under its own steam.
It is believed that none of the crew of the 180-metre long Alnic MC was harmed, and no oil spill from the 12,000 tonnes of fuel on board has been reported.
Official reactions
President Trump tweeted that his thoughts and prayers were with the sailors from the US navy.
Thoughts & prayers are w/ our USNavy</a> sailors aboard the <a href="https://twitter.com/hashtag/USSJohnSMcCain?src=hash">#USSJohnSMcCain</a> where search & rescue efforts are underway. <a href="https://t.co/DQU0zTRXNU">https://t.co/DQU0zTRXNU</a></p>— Donald J. Trump (realDonaldTrump) August 21, 2017
The destroyer's namesake, Senator John McCain, said that he and his wife were also praying for the crew.
Cindy & I are keeping America's sailors aboard the USS John S McCain in our prayers tonight – appreciate the work of search & rescue crews https://t.co/jzk9giXbfg

— John McCain (@SenJohnMcCain) August 21, 2017
Second disaster
The crash is the second collision involving a US warship in just two months. Seven people died when the Fitzgerald struck a container ship back in June. Its two senior naval officers have been relieved of their duties following an investigation.
Despite this, such incidents remain extremely rare. The last recorded similar crash occurred about fifty years' ago.