Venezuela's constiuent assembly takes over parliament
Comments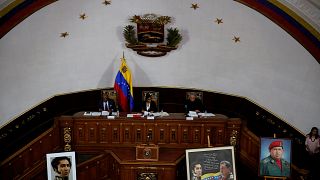 Venezuela's Bolivarian National guard escorted members of the country's controversial Constituent Assembly into the Legislative Palace in Caracas.
Evidently expecting trouble delegates had turned up early. They filed into the chamber where congress normally meets.
The move took members of the opposition-led national assembly by surprise who were prevented from entering the building.
Opposition deputy José Guerra was among those outraged:
"A contingent of the National Guard with the President of the National Assembly took the Assembly by force where parliament operates. Before they had said they'd be taking over the Municipal Theater of Caracas as a place to work but they went back on their word.
Instead they took over the Federal Building where parliament, elected by 14 million Venezuelan's in 2015 works as the legitimate legislature."
During the meeting members of the new constituent assembly declared itself superior to all other branches of government.
The order bars the opposition-controlled National Assembly and other agencies from taking any action that would interfere with the laws passed by the pro-government super-body.
Embattled President Nicolas Maduro convoked the constitutional assembly in what he says is an attempt to resolve the nation's political standoff but opposition leaders contend it is a power grab.
Opposition leaders and a growing list of foreign government have refused to recognize the new assembly.
Our correspondent in Caracas, Eduardo Salazar Uribe summed up the mood of the opposition:
"Venezuelan opposition says that the takeover of the Legislative complex is another clear violation carried out by the Constituent Assembly, but the deputies have vowed that if they can not sit in parliament to do their work they will do so in the streets."
Socialism, oil, and Maduro have sent #Venezuela heading down a slippery slope.FT</a> <a href="https://t.co/dJfS0cZ8nf">pic.twitter.com/dJfS0cZ8nf</a></p>— Prof. Steve Hanke (steve_hanke) August 8, 2017
"Long live Chavez. Long live Maduro. Long live the revolution!" #diegomaradona defends #Venezuela leader Maduro https://t.co/VbzaH80vPJpic.twitter.com/MeVIJ53W80

—

AFP

news agency (@AFP) August 8, 2017