Venezuela's new chief prosecutor blames ousted Ortega for violence
Comments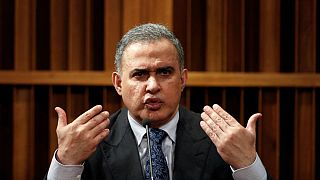 The forced replacement of Venezuela's chief prosecutor with a Maduro loyalist has been denounced by opposition lawmakers.
The successor to Luisa Ortego Diaz, Tarek Saab was highly critical of his predecessor when he spoke to euronews.
"What has not been conducive to creating peace has been the complicitous performance of the Public Ministry in the hands of Luisa Ortega Díaz during events of April, May, June, July and August. This has contributed to the number of deaths and injuries."
Since her dismissal the husband of Luisa Ortega who is an opposition deputy, has complained that his family has persecuted by the government.
"The prosecutor of the Republic has been followed by vehicles in order to scare her. Her relatives have been followed, with cars parked in front of their houses, in a very aggressive way. This is all part of the threats and outright intimidation we are being subjected to, " said German Ferrer.
Euronews corespondent in Caracas Eduardo Salazar Uribe said:
"The new Prosecutor of the Republic has said that he will work with the Truth Commission of the National Constituent Assembly to establish those responsible for the murders in the protests against Maduro in the last 4 months."