Rebuilding Mosul - bringing the demolished city back from the dead
Comments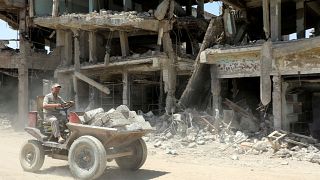 After nine months of continued conflict, work has begun to rebuild the Iraqi city of Mosul. Many of the residential districts have been heavily damaged, if not completely flattened.
With the economy also in ruins, some businessmen don't want to wait for the possibility of financial support – they have started to repair their shops and restaurants with their own money.
Adel Mahmoud is a resident of West Mosul and the owner of a building that is under construction. He says it's wrong that the international community is not helping with financial aid. "We place responsibility on the central government and on the international community because they are not providing support to this destroyed city that is inhabited by more than 4 million people," he says. "Its people are displaced and are living in camps, their homes have been destroyed, there is no employment. As for me, in my area, I am reconstructing my shop at my own expense."
A lack of essential services such as running water, power lines, and sewage systems has deterred many from returning, but Kathem Hussein, who has opened a makeshift restaurant for the locals, said life was back to normal and people should come back. "The situation is good, thank God. But we hope that water and electricity will be reinstated, and we ask the people currently in the east to come back here. Life is back to normal."
Before the war, Mosul was Iraq's second-largest city, known for its ethnic and religious diversity. The battel to take Mosul back may have been won, but the battle to rebuild is only just beginning.