Britain's Prince Philip really was married to the job
Comments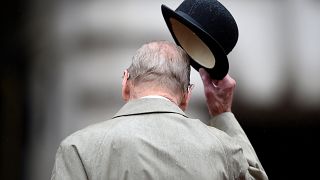 Philip was born Philippos, Prince of Greece and Denmark, on his family's dining room table on the island of Corfu on June 10, 1921. His family comes from the Danish-German house of Schleswig-Holstein-Sonderburg-Glucksburg and many of his relatives became members of the Greek, Norwegian and Danish royal families.
Prince Philip, who turned 96 yesterday, pictured at age 9 when he was Prince Philip of Greece and Denmark, wearing Greek national costume. pic.twitter.com/DePIawOQMR

— Mark (@markuslynnus) June 11, 2017
His mother Princess Alice was German was by birth, but she diplomatically anglicized her surname, changing it from Battenberg to Mountbatten during World War One, as her family had by then moved to Britain.
In 1930 she was diagnosed with schizophrenia and was moved to a sanatorium in Switzerland, but in later life she lived in London's Buckingham Palace.
Philip's father was the brother of King Constantine of Greece, but Philip had to renounce his Greek citizenship – as well as his claims to the Danish and Greek thrones – before marrying into Britain's royal family.
Curiously, he told his biographer Fiammetta Rocco in 1992 that "if anything, I've thought of myself as Scandinavian. Particularly, Danish."
Proud of my Uncle Greek borne #PrincePhilip who dedicated his life to service of the Queen & her nation Thank you for your dedication at 96 pic.twitter.com/fDuitgWBQ0

— Prince Pavlos of Gr (@pavlosgr1) May 4, 2017
When Elizabeth took the throne there was a big debate over what the royal family's surname should be. The queen wanted "Mountbatten-Windsor", but former prime minister and war hero Winston Churchill pushed for just "Windsor". Churchill had taken a dislike to Louis Mountbatten whom he blamed for losing India as a colony in 1947 and so the royal family became the "House of Windsor."
Philip's unfortunate gaffes
Philip remains notorious for his public gaffes, delighting some of his British subjects and horrifying others.
Most recently he lost his patience in 2015, telling an RAF photographer at an event to mark the 75th anniversary of the Battle of Britain to "just take the f***ing picture."
His legendary racist comments have often reminded Britons that he hails from an earlier and very different era when Britain still retained colonies across the world.
On a state visit to China in 1986 he told British students: "If you stay here much longer, you'll all be slitty-eyed."
Then in Australia in 2002 he told an Aboriginal businessman "Do you still throw spears at each other?"
Visiting a hospital in 2013 he told a nurse of Filipino origin: "The Philippines must be half empty as you're all here running the NHS."
Back in 1961 he became president of the World Wildlife Fund in 1961 – and shot a tiger in India the same year.
But, being the Queen's husband he's somehow got away with the dozen or so foot-in-mouth moments during a career that has featured more than 22,000 public engagements since 1952.
Career highs and lows
Philip began writing to his future wife when she was just 13 and he's now the longest-serving consort – or spouse – of a reigning British monarch. (The Queen meanwhile is the longest serving head of state in the world today.)
He's a patron of around 780 organisations and his salary is 401,000 euros a year.
On ceremonial occasions he's had to walk behind his wife – and not alongside her – because she's the queen and he is merely her consort.
He's visited 143 countries as well as the Antarctic.
After Philip's daughter-in-law the Princess of Wales was killed in a car crash, along with her Egyptian boyfriend Dodi Fayed, tycoon Mohamed Fayed accused Philip of ordering Diana's killing.