US prison inmates film jailbreak
Comments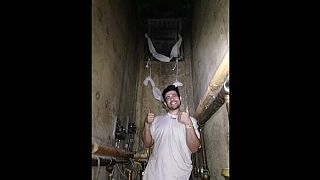 Footage filmed by escaped inmates shows how they used a bunk bed leg to break out of a maximum security prison in the US state of California.
The trip had cut through a metal screen and the video shows how they disappeared into a vent.
The escapees climbed through shafts, with one of them giving a hearty thumbs-up as their jail break succeeds.
The video shows the inmates on the roof of the jail but does not show how they got to the ground.
The men were eventually captured after a week-long manhunt. Serious questions are now being asked about how the phone was smuggled inside, and whether policies have been changed since the jailbreak.