Israeli PM visits Europe's largest synagogue in Budapest
Comments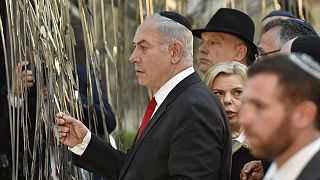 Israeli Prime Minister Benjamin Netanyahu has taken a moment during his two-day trip to Budapest to visit Europe's largest synagogue. The tour has been a chance to deepen mutual ties but not everyone's been impressed.
"The Budapest visit of one of the most protected politician of the world made transportation very difficult in the city," said our reporter Andrea Hajagos. "In preparation for his visit to the synagogue many streets were closed and it was prohibited to park almost everywhere around."
After both leaders had paid their respects to holocaust victims Hungarian Prime Minister Viktor Orban focused on a joint concern:
"We live in a time when the security of Israel and Europe, and Hungary within Europe is of mutual importance.
Reflection on past and present threats the Israeli Prime Minister took the long view of history:
"The memory of ancient times and the hope of better times, and it's a special combination that now unites us and so many other countries."
Netanyahu's visit is the first to Hungary by an Israeli Prime Minister since the fall of Communism.