Frenchman creates fake speed trap to slow down motorists
Comments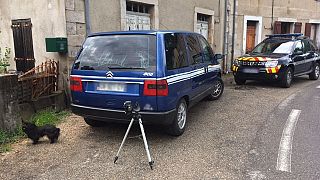 Tired of motorists speeding through his village, a Frenchman created his own speed trap by decking his van with police-style insignia and placing a camera on a tripod beside it.
The 63-year-old even rigged up a cable connecting the 'speed gun' to the vehicle for added authenticity.
Gendarmes posted on their Facebook page a photo of the van, which resembled an official vehicle even down to the French tricolour on its numberplate.
The man had recently bought the Peugeot 806 in the same colour used by the Gendarmes who are responsible for law enforcement in rural France.
It was parked on a corner on the main road entering the village of Chamborigaud in southern France.
Following a court appearance in which the owner declared his intention was only to "slow people down," he was found guilty of possessing a vehicle likely to cause confusion with those of the authorities and ordered to remove the markings. His fake speed gun was confiscated and destroyed.
A police spokesman told France Bleue radio that the situation was unusual but pointed out the ruse was clearly illegal.
However, following a 2015 decision, the authorities themselves are permitted to employ fake speed cameras as a traffic calming measure – there are around 100 in France today.