Thousands protest in Poland against government judicial changes
Comments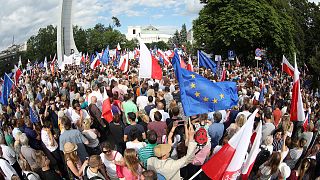 Thousands in Poland have protested against a draft bill which will allow the government to replace Supreme Court judges.
It follows Friday's approval of a seperate law pushed through by the ruling Law and Justice party (PiS) giving parliament greater control over the body that appoints all judges.
Protests in Warsaw today against judiciary reform in Poland which effectively removes democratic checks & balances #ruleoflaw

— Agata Gostyńska (@AgataGostynska) July 16, 2017
PiS says the party has a democratic mandate to make the judiciary more efficient and accountable to the public. Since winning the 2015 election the party has overhauled the constitutional court and given the Justice Ministry control over the prosecutor general's office.
Government critics say the moves amount to a coup.
"Democracy is being destroyed in Poland," said one Warsaw resident."The next act of this destruction (by Law and Justice party) is the elimination of the independent judiciary, independent from the political power."
"We are wondering if we want to stay in such a country," said one young mother. "Decisions are being taken above us and we have no influence on this. We are scared."
The European Commission has expressed concerns despite the government arguing they are needed to create a fairer system.
Opposition leaders have urged protesters to remain in front of parliament until Tuesday when law makers are due to debate the bill.
The country's fragmented opposition also promised to be more united against PiS.
Protests in Poland, once again EU flag is a flag of freedom, human rights and liberal democracy pic.twitter.com/GIgWNfB77S

— Andy Conway Morris (@andymoz78) July 16, 2017