Iraqi PM in Mosul to congratulate army on ISIL defeat
Comments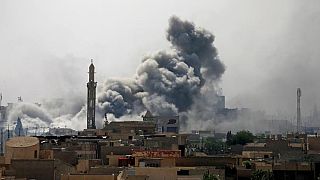 Iraq's prime minister arrived in Mosul on Sunday to congratulate the armed forces and celebrate the end of ISIL's control of the city.
Haider al-Abadi's office said he wanted to pay tribute to the "heroic fighters" for a "great victory".
PM Al-Abadi arrives in Mosul to announce its liberation and congratulate the armed forces and Iraqi people on this victory pic.twitter.com/bUtkj7z88A

— Haider Al-Abadi (@HaiderAlAbadi) July 9, 2017
The prime minister met commanders in west Mosul but there was no formal declaration that the entire city had been retaken. On Sunday reports spoke of more airstrikes and exchanges of gunfire.
But the soldiers are jubilant after nearly nine months of urban warfare. Iraqi forces, backed by a US-led international coalition, have been battling to retake the city since last October.
Kurdish Peshmerga forces, Sunni Arabs and Shi'ite militias have also been involved in the campaign. There are divisions between Arabs and Kurds over territory, and between Sunnis and the Shi'ite majority.
PM Al-Abadi meets with ISF commanders and forces who led the Mosul liberation campaign pic.twitter.com/qLILtkIWch

— Haider Al-Abadi (@HaiderAlAbadi) July 9, 2017
Mosul was by far the largest city to fall under the control of the so-called Islamic State. However, large areas lie in ruins, thousands of civilians have been killed and nearly a million people displaced.
Inside what's left of the city, residents who suffered under ISIL and from the fighting are emerging out into the open – malnourished and fearful according to army officers.
The military's success is not without cost: the elite force which spearheaded the fight is said to have suffered 40 percent losses.
French President Emmanuel Macron welcomed ISIL's defeat. France has been part of the coalition, conducting airstrikes and providing training for Iraqi forces as well as help on the battlefield.
"Mosul liberated from ISIL: France pays homage to all those, who alongside our troops, contributed to this victory," Macron said on his Twitter account.
Iraq declares victory in #Mosul but at the cost of staggering destruction and unimaginable suffering. Pictures by AFP's Ahmad al-Rubaye pic.twitter.com/VlmExYMSnN

— david vujanovic (@davidvujanovic) July 9, 2017