Many Europeans have bikes in their garages, but only 8% use them as means of transport.
The practice is drastically uneven across the EU. One in three Dutch cycles daily to their workplace while the idea of bike commuting still raises eyebrows in countries like Cyprus, Malta and Portugal, according to Eurobarometer.
The lack of a reliable bike-friendly infrastructure, safety concerns and an unpredictable weather are usually named as the main deterrents of cycling.
EU Capitals: bikes as a % of daily transport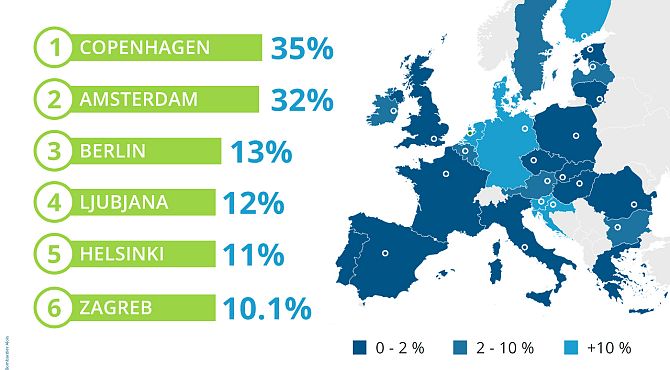 Source:ECF
Meanwhile, Copenhagen and Amsterdam are competing with each other to become the most bike-friendly capital in the EU.
Now, a number of infrastructure upgrades and technological innovations are enabling bicycles to gear up.
London is building the so-called cycle superhighways —two axes, East-West and North-South— to give bike commuters safer, faster, and more direct trips into the city. The Netherlands plans to build 675 new kilometres of fast cycle routes around the country's cities by 2025. German cities are also planning to develop new fast cycle lanes while offering the bike hire system, Call-a-bike, which allows borrowing and returning from smartphones.
Difficult bike ride in Ruse, Bulgaria
Protected lanes and convenient bikes help people feel safe; which increases up cycle use. All across Europe, the electric bicycle market is growing at a pace of almost 20%. While on the other hand, sales of traditional bikes remain stagnant, according to the Confederation of the European Bicycle Industries (CONEBI).
For some, there is an opportunity to boost cycling as a cost-efficient mode of transport.
Battling steep hills and impatient drivers in Italy
The European Cyclists' Federation (ECF), together with public authorities, academia, NGOs and business associations, has drafted the EU Cycling Strategy, including some policy recommendations to increase the number of cyclists.
By 2030, the main goals are to increase the share of cycling in the transport modal split from 8% to 12% and to halve the rate of casualties. They also urge the EU to double the investment in cycle projects to 3 billion Euros during the 2021-2027 period and to double it again to 6 billion Euros during the 2028 – 2034 period.
A leisurely bike ride in the Netherlands, one of the EU's most bike-friendly countries
Video: Sjors Van Duren@sjoess
"Cycling should get its fair share and become an equal mode of transport. Not because we are nice people using bikes, but because investing in cycling delivers a better return on investment. It delivers a better performance for the EU objectives in terms of growth, job creation, and CO2 reduction", says Ádám Bodor, ECF's advocacy director and former cycling commissioner of Hungary. Ease of congestion and less pollution for cities and better health for citizens are usually also cited as benefits of cycling.
The ECF has asked the Commission to include the strategy in their 2018 Work Programme.
However, the Commission is not planning to launch a proposal on cycling yet. Next year, it might propose new measures on multimodality, including cycling, but this is not decided at the moment.
Bike ride in Nantes, France
One of the current challenges to the development of cycling is fiscal policy. Countries with a high share of bike commuting usually provide some sort of financial incentive. In Austria, for example, there is a national subsidy programme for electric bikes, cargo bikes, and bike trailers for some public and private bodies; but not for people. "We don't want cycling to receive an extra fiscal benefit, but we need to have an equal playing field between cars and bikes", says Bodor.
Another future challenge is the coming of automated cars. "Will they be able to cope with cyclists?", wonders Bodor. "The EU must make sure that cyclists are integrated into their system".
High-tech bikes, vintage bikes, cargo bikes, e-bikes, pedalecs… Shops showing a broad diversity of bikes are probably the most relevant sign of the emergence of cycling as a means of transport. Young people are embracing bikes to assert their identity the same way that previous generations of youngsters took pride in their cars. "Cycling is becoming fashionable", says Bodor with a smile.
Bike ride in "not that bike-friendly" Budapest, Hungary
By Áron Halász, president of Hungarian Cyclists' Club### How do cyclists in your town fare?
How bike-friendly is your city? Is it safe? Have you seen or experienced accidents? Is it easy to get around or store your bike? Send us your comments, photos and videos to witness@euronews.com or use our social media accounts.
ranking the EU's most bike-friendly countries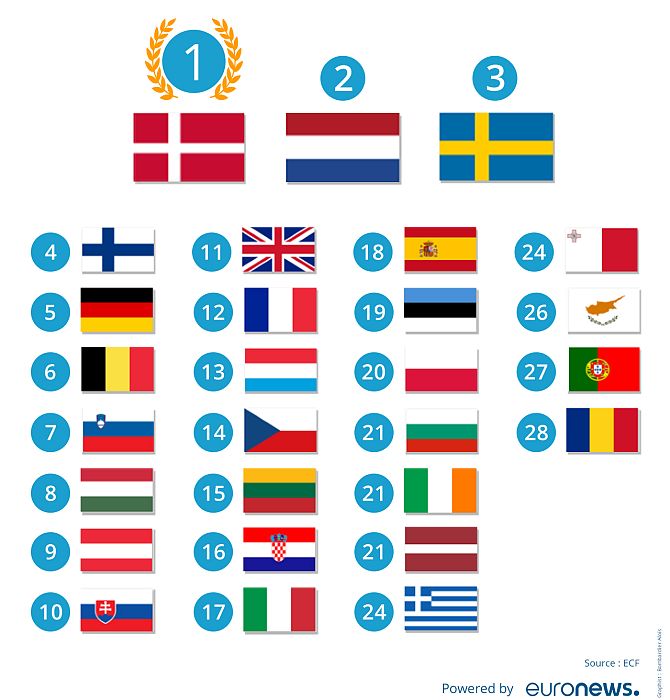 Text and interview by Alejandro Vivancos, Brussels