North Korea launches suspected ballistic missile into Sea of Japan
Comments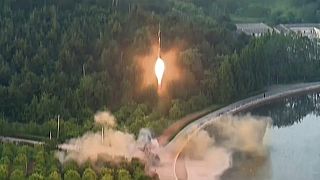 North Korea has launched a ballistic missile from its western region into the Sea off its eastern coast.
It is said to have flown for about 40 minutes and landed in what Japan calls its Exclusive Economic Zone. Tokyo has issued a strong protest saying the North has once against violated UN resolutions.
Pyongyang fired several cruise missiles in early June and this latest comes ahead of A G20 meeting in Berlin where leaders of the United States, China, Japan and South Korea are expected to discuss efforts to rein in the North's nuclear and missile tests.
"At the G20 meeting I would like to appeal for unity in the approach of the international community regarding this North Korea issue. Also, I would like to urge both China's President Xi Jinping and Russian President Vladimir Putin, to take even more constructive measures toward this problem," said Japanese Prime Minister Shinzo Abe.
At the UN in new York, China's ambassador said that his country wants to see a de-escalation of tensions on the Korean Peninsula and warned that otherwise things could get out of control and the consequences would be be disastrous.