EU leaders united on climate change ahead of tricky G20 with Trump
Comments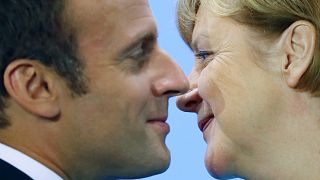 European countries put on a united front on Thursday ahead of next week's G20 summit.
Host Angela Merkel welcomed leaders for preparatory talks in Berlin.
While they're committed to the Paris Climate Deal however, President Donald Trump is pulling the US out.
But any suggestion that he would be isolated at the July 7-8 gathering was quickly brushed to one side.
European leaders meet in Berlin to plot united front at Trump's first G20 summit https://t.co/brI1FJMo0Ppic.twitter.com/hLiX6t3NpF

— The Local Germany (@TheLocalGermany) 29 juin 2017
"The United States has announced it wants to withdraw from the Paris accord while we are facing the challenge of migration, while the fight against terrorism is a challenge affecting all our societies and where free trade is challenged by several countries," French President Emmanuel Macron told reporters.
"Today, we must defend those things that are common to us all."
At Macron's invitation, Trump will visit Paris a week after the G20 summit for Bastille Day celebrations.
Earlier in a defiant speech to parliament, German Chancellor Merkel stressed the importance of tackling climate change and slammed isolationism and protectionism in what was seen as a swipe at the US leader.
#Merkel determined to conduct #G20 chairmanship to serve #Parisagreement. Won't deny rift after #Trump decision to withdraw. #climatechangepic.twitter.com/Ef8nTC2sKb

— DW | Politics (@dw_politics) 29 juin 2017
But she too is taking a conciliatory and pragmatic approach.
"Because of the US decision to pull out of the Paris accord, there are of course areas where opinions differ, but the United States is an important part of the G20 so we will do anything to work together, without covering up the differences," she said.
Climate change activists though will be a lot less diplomatic with Trump and the other G20 leaders.
They will be making their voices heard at the summit in Hamburg.
The G20 summit will be held a little over a month after a G7 summit in Sicily exposed deep divisions between other western countries and Trump on climate change, trade and migration.