WTF?! World Taekwondo Federation changes name over links with rude acronym
Comments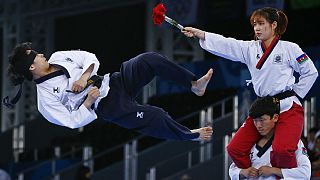 For the majority of web users, online acronyms have become a useful shorthand for communicating quickly.
But they haven't proved practical for all.
Take the World Taekwondo Federation (WTF) who have had to change their name because of its unwelcome association with the expletive-laden acronym What The F*** (WTF), used to express surprise or shock at something.
"In the digital age, the acronym of our federation has developed negative connotations unrelated to our organisation and so it was important that we rebranded to better engage with our fans," explained Chungwon Choue, the organisation's president.
The federation has relaunched itself as simply World Taekwondo, changing from a name it's used since 1973.
It's not the first move to disassociate from the acronym.
In 2009, the Wisconsin Tourism Federation (WTF), perhaps mindful its goal was to attract people to the state, said it wanted to be instead known as the Tourism Federation of Wisconsin (TFW).
It remains to be seen if the World Taekwondo Federation's move will precipitate others to follow suit, such as:
World Tour Finals (tennis competition)
Wikileaks Task Force (corrects information about Wikileaks)
Williamstown Theatre Festival (award-winning Massachusetts extravaganza)
Your view What do you think? Do you know any other organisations that could be embarrassed by their unfair association with an online acronym? Let me know: chris.harris@euronews.com