More high-rise apartments deemed unsafe for residents
Comments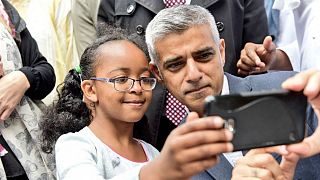 At least 60 high-rise apartments across Britain have failed safety tests after the deadly fire at west London's Grenfell tower.
Amid fears over cladding used on one building in Camden, authorities decided to evacuate residents but the enforced move has not been welcomed by all.
Our latest statement regarding the evacuation of tower blocks on Chalcots Estate in #Camdenhttps://t.co/R0Kf8dL90Upic.twitter.com/MiAJvnCmhM

— London Fire Brigade (@LondonFire) June 24, 2017
"It's a kneejerk reaction to evacuate the whole building. Previously when things have needed to be done they've worked round us, they've given us notice."
"I didn't have anywhere to go. It was literally we didn't have anywhere to go. At one point they offered the hotel in Picadilly, but my daughter is at the school down the road."
While visiting worshipers at a north Kensington mosque to offer his support to victims of the Grenfell fire, London's Mayor Sadiq Khan defended Camden's decision to evacuate residents.
Thank you to the North Kensington community for inviting me to celebrate Eid alongside you today at Al Manar Mosque. #EidMubarakpic.twitter.com/kFfAeqAOd7

— Sadiq Khan (@SadiqKhan) June 25, 2017
"I think they've done the right thing, you've got to err on the side of caution. You can't play Russian roulette with people's safety. Obviously it's terribly inconvenient and a huge nuisance to these families to have to move but I think the Council has done the right thing, because what can't be accepetable is when a Council knows a building is unsafe for the Council still to allow people to occupy those buildings," said Khan.
Some 4,000 Camden residents were forced to move after the fire brigade deemed their building unsafe. But anger remains as many doubt the authorities claim the repairs will take up to four weeks.
Grenfell Tower fire: police considering manslaughter charges https://t.co/9oBGXY1Edb

— Christopher J. Eddie (@qeddify) June 25, 2017