Egypt fuels Gaza to ease power crisis
Comments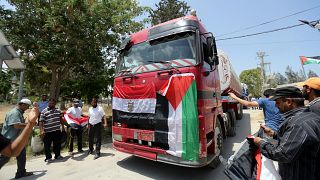 Egypt's sent fuel to the Gaza Strip's to help alleviate an energy crisis that has left the Palestinian enclave's two million residents with less than three hours of electricity per day.
Diesel tankers, flying the Egyptian and Palestinian flags, crossed into the Gaza Strip two days after Israel began cutting back on its electricity feed to the area after the Palestinian Authority slashed payments for the power line supplies.
The delivery – a sign of improved relations between Hamas and Egypt after years of friction – was the first official import of Egyptian diesel to Gaza since Hamas took over the enclave in 2007 and could provide seven hours of power for three days.
Fuel from Egypt used to be smuggled through tunnels, many of them now destroyed by Cairo.
Gaza's power plant has been off-line for two months due to a tax dispute between the Palestinian Authority, based in the Israeli-occupied West Bank, and Gaza's Hamas Islamist rulers.
The one million litres (264,000 gallons) in the shipment on Wednesday could be followed by another one million litre possible on Thursday, according to an official in Gaza.