US voters have Georgia on their mind – a real danger for Trump
Comments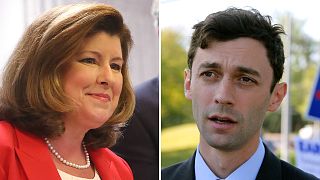 This Tuesday, voters in the sixth Congressional district in Georgia will go to the polls in what may well be a stunning rebuke of Donald Trump and his Republican Party.
Technically, it is just a special election to replace a member of the House of Representatives who has given up his seat to join the Trump administration.
But politically it is the first real electoral referendum on Trump's five-month old presidency that has largely been characterized by chaos and disruption.
The district representing an affluent suburb of Atlanta has been in Republican hands for decades, but was won by Trump against Hillary Clinton last November by only 1.5 points.
This time, Democrats who are hoping to create a sensation are energized beyond compare. A win in conservative Georgia would show a definitive Trump-fatigue among a critical electorate and could set the stage for a massive Democratic victory in next year's Congressional elections.
The stakes could not be higher: Republicans and Democrats spent a combined $50 million on their respective campaigns, making it the most expensive House race ever in US history!
The line-up of candidates is symbolic for American politics these days. Democrat Jon Ossoff, a 30-year old newcomer who has never held an elective office before is facing Republican Karen Handel, a veteran in Georgia politics with only a meager track record.
"The whole country is watching and the whole country is waiting with bated breath to see what we're going to say in Georgia," Ossoff told volunteers at an event last weekend.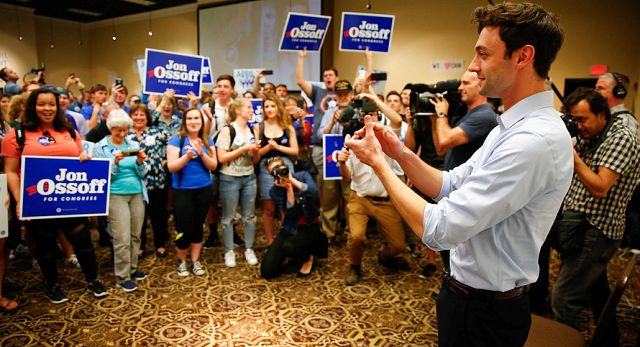 Both parties have been combing the district for additional supporters since the first round, when Ossoff got over 48 percent of the vote — 3,612 votes short of a majority that would have won the seat for the Democrat without a runoff.
Handel qualified for the June 20 runoff in second place with 20 percent of the vote, though Republican candidates combined for 51 percent support in the first round.
Latest polls suggest a very close race, yet Ossoff has been leading by several points in four out of five surveys, with the fifth poll showing a 50-50 tie.
While Republicans are publicly displaying confidence and are dismissive of Ossoff, they are feeling the heat, being in the unnerving situation to have to pump massive funds into defending a House seat that they used to consider safely theirs.
Handel has denounced Ossoff, who has campaigned as a "fresh, independent voice," as an out-of-touch liberal hiding his real values from the voters.
She has repeatedly said Ossoff would be a better fit "some 3,000 miles away in San Francisco," linking him to one of the most liberal cities in the country and to scores of out-of-state money that kept pouring into her opponent's campaign coffers.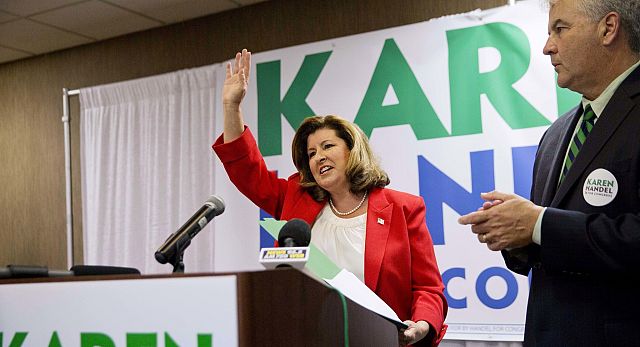 In sharp contrast, Handel cast herself as an experienced conservative committed to tax cuts and a more traditional fit for the longtime Republican district.
But Ossoff has been buoyed by unusual energy coursing through the Democratic base in the early days of the Trump administration. Small-dollar donors from around the country have given more than $23 million to Ossoff's campaign, a record for a House candidate.
An army of fired-up Ossoff volunteers has combed the district for support for months — more than half of district voters said in a recent Atlanta Journal Constitution poll that the Ossoff campaign had personally contacted them — and they were aiming to knock on more than 30,000 doors per day over the last weekend in a final push for votes.
One potentially significant factor: A recent poll by found that only one in four voters approved of the House Republican's controversial health care bill. Handel supports it, while Ossoff is against it.
A Democratic victory Tuesday in Georgia would undoubtedly send a chilling message to Republican candidates running next year: Support Trump and his policies and you are in mortal danger.
But Democrats have their own internecine battles as well. The left wing of the party wants them to go all out against Trump and fight him every step of the way. On the other hand, the more establishment wing wants to pick and choose their fights.
Ossoff is in the latter category. He was not running an overtly anti-Trump campaign, but rather a middle-of-the-road race to make sure the district's moderate voters won't be turned off by too shrill ideas.
Ossoff knows that the anti-Trump feeling in the country is strong and therefore he believes he can afford to keep his powder dry.
Two special elections earlier this year in Republican strongholds in Kansas and Montana were a warning to Ossoff. Even if the Republicans lost a lot of support there, they still managed to carry these seats anyway.