Anti-Sharia protests across the USA
Comments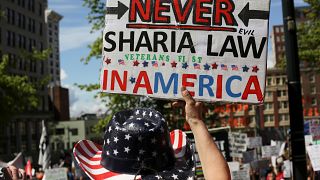 The right-wing group ACT for Amercia has staged a number of anti-Sharia law protests in the United States.
In Seattle police had to intervene as the ACT group clashed with counter-demonstrators.
In New York no violence was reported and the NYPD made four arrests for loitering.
Protesters representing Act for America, CAIR converge on intersection near Santana Row. https://t.co/QYZDZnCq6epic.twitter.com/aS8Re66o8U

—

NBC

Bay Area (@nbcbayarea) June 10, 2017
One unidentified ACT member said:"Sharia law, which we're speaking out against today, is a direct contradiction to the United States Constitution."
Hundreds railed against the demonstration shouting out against racism and Islamophobia.
One of them condemned the sentiment:"I think it's a thinly-veiled attempt to judge and condemn Muslims in general, some of the most loving people. Some of the most wonderful New Yorkers."
Act for America's Islamophobic rallies attract hate groups like the KKK and the Portland killer. #CounterACTHatehttps://t.co/TB2wTdIJTTpic.twitter.com/7nLSDdoLOo

—

SAALT

(@SAALTweets) June 10, 2017
The marches against Sharia have gained support following the killing of two men by a ranting Jeremy Joseph Christian in Portland as they protected two women the man was abusing, one of whom was a Muslim.