Morocco arrests Rif protest leader Nasser Zefzafi
Comments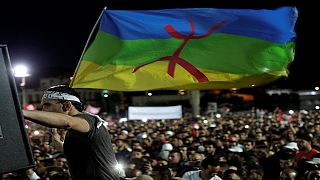 Moroccan authorities have arrested the leader of protests rocking the northern Rif region for months.
Nasser Zefzafi will be charged with "threatening national security," state news agency MAP reported, citing the general prosecutor.
The protests against police brutality in Al-Hoceima have been some of the most intense since the 2011 Arab Spring unrest that prompted the king to devolve some of his powers to an elected parliament. Tensions have been simmering since October when a fishmonger was crushed to death inside a garbage truck while trying to save his fish confiscated by police.
Morocco arrests fugitive leader of northern protest movement https://t.co/pdXmED0URZ#Morocco#NasserZefzafipic.twitter.com/UgmFf6Gwv8

—

AFP

news agency (@AFP) May 29, 2017
Authorities first tried to arrest Zefzafi on Friday, but supporters poured onto the streets and clashed with security forces as he left Al-Hoceima. Health officials said three policemen were critically injured following the clashes. Activists say several protesters have also been hospitalised.
At least 20 people have since been arrested, and the protests have spread across the country. Protests in solidarity with Zefzafi's movement were held on Sunday night, including in Rabat and Casablanca.
The public anger over the fishmonger's death echoes Tunisia's 2011 uprising when a young street vendor set himself on fire after police confiscated his fruit and vegetables. That uprising swept Tunisian President Zine El-Abidine Ben Ali from power and triggered "Arab Spring" revolts across the region.
But protests in Morocco are calling for greater freedoms and reform, and are not directly targeted against the king. Morocco has a deeply rooted monarchy – the Muslim world's longest-serving dynasty.