US slaps sanctions on Venezuela Supreme Court members
Comments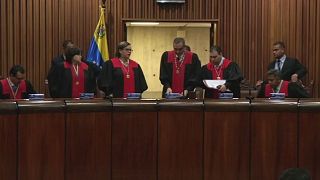 The Trump administration has slapped sanctions on the chief judge and seven other members of Venezuela's Supreme Court.
Officials say it is punishment for the seizing of powers from the opposition-led Congress earlier this year.
All of those targeted will have US assets frozen and be denied travel to America, while US citizens will be barred from doing business with them, according to officials. The Venezuelan government did not make any immediate comment.
The move comes amid concerns over a crackdown on street protests and President Nicolas Maduro's efforts to consolidate his rule over Venezuela.
"People don't have enough to eat. People have no food, there's great violence," said Trump.
"And we will do whatever is necessary and we'll work together to do whatever is necessary to help with fixing that. What's happening is really a disgrace to humanity."
Anti-government protests continue in Venezuela, with unrest claiming well over 40 lives in the last six weeks. All sparked when the Supreme Court, packed with Maduro supporters, assumed the authorities of the Congress.
While demonstrators demand early elections, the president blames the opposition for stoking violence and using foreign backs to stage a coup against his government.
Meanwhile, one of Maduro's main opponents – local governor Henrique Capriles – says his passport was annulled as he was about to set off for the UN in New York to denounce human rights violations.