State win for Merkel huge boost ahead of German election
Comments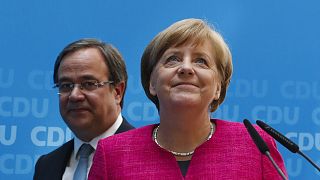 A stunning state election win by Angela Merkel's conservative party
has provided the chancellor with powerful momentum ahead of the country's general election.
Sunday's triumph in North Rhine-Westphalia marked the third regional victory this year for Merkel's Christian Democrats, a strong sign that she has regained her popularity.
It was a huge blow to the Social Democrats, whose leader Martin Schulz had high hopes to challenge Merkel for power in September.
Schulz had predicted that a victory for his party would make him the next German chancellor – which now seems a distant dream.
Forgiven for migrant crisis, Merkel in pole position for fourth term https://t.co/WEzqayreH5

— Reuters Top News (@Reuters) May 15, 2017
Ulli Tückmantel, editor in chief of the Westdeutsche Zeitung told euronews: "It means, that the SPD has to worry about, whether Mr. Schulz can become Chancellor with his strategy.
"The "Schulz-train" – as he likes to say – has derailed now for the third time:
"They need to re-think their strategy. Mrs. Merkel on the other hand is stronger than ever."
The SPD had until recently enjoyed a boost in national polls, but the defeat in their stronghold of North Rhine Westphalia suggests local voters had tired of them.
A voter said: "I am glad, that there is a change. Everything was more of the same. There was no going forward. They wanted to do something, but then they didn't. There were too many disappointments. A change had to come, no matter how."