US intercepts Russian warplanes near Alaska
Comments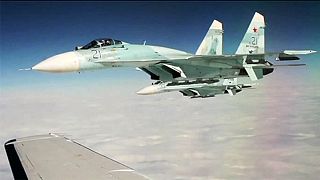 US fighter jets have again intercepted Russian warplanes off the coast of Alaska, the fifth such incident in a number of weeks.
The two Russian bombers were flanked by a pair of fighter jets, making the fleet unusually large.
The military planes were flying in international airspace but just 50 miles 80 from the US coast, part of the US air defence zone.
A spy plane later flew into the area was not intercepted.
At the end of April, Russian bombers flew into the same air defense zone near Alaska for four consecutive days – the first incidents since 2014.
The flyby came a day after US President Donald Trump spoke with his Russian counterpart Vladimir Putin on the phone.