UN official kidnapped by dissident former FARC rebels
Comments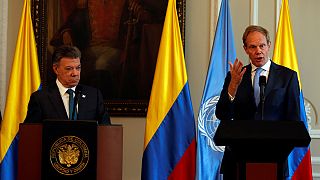 A UN official is said to have been kidnapped in Colombia by dissident, former FARC rebels who have rejected the peace process.
Arley Lopez, who has been working on a project to substitute illegal crops with legal ones, was seized by gunmen close to Miraflores in the southern Guaviare province.
It came as UN Security Council representatives were in Colombia to discuss the peace accord signed with the FARC.
"This employee was working yesterday in a socialisation programme for the substitution of illicit crops," confirmed Rafael Pardo, High Commissioner for Post Conflict.
"He was with employees of the municipal government in a meeting of some 400 people in Barranquillita de Guaviare, and was kidnapped following the meeting."
The government is seeking to substitute coca, the raw material for cocaine, with legal crops such as coffee and fruits. The area where Lopez was seized has a long history of coca cultivation.
The UN has condemned the kidnapping and the Colombian government has described it as "regrettable."