Venezuelan president triggers constitutional shake-up
Comments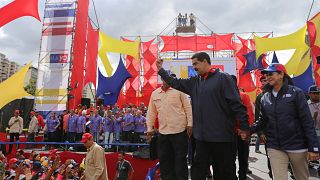 Venezuela's President Nicolas Maduro is to form a new popular assembly with powers to rewrite the constitution.
Nicolas Maduro is dissolving democracy, dissolving the Republic.

Present of Venezuela's National Assembly
The announcement came after numerous May Day rallies and protests in a country beset by political unrest.
The new body is to be made up of ordinary citizens and will circumvent the opposition-controlled National
Assembly.
ALERTA 1MAY EL DELINCUENTEDICTADOR NICOLÁS MADURALLAMA a una "CONSTITUYENTECOMUNALpic.twitter.com/tLQS1brGNh

— Mi Venezuela

LIBRE

! (@PMT67) May 1, 2017
"Exercising this right, (the people) can call a constituent national assembly with the objective of transforming the state. We need to transform the state, above all the rotten national assembly we have there! (We need to) create a new judicial order and to write a new constitution," Maduro told supporters.
Panoramic view of protest against dictatorship today in #Merida Venezuela. #1Mayoglobeandmail</a> <a href="https://twitter.com/TorontoStar">TorontoStarMetroNewsCanada</a> <a href="https://twitter.com/metronewyork">metronewyorkpic.twitter.com/iMza6Trmik

— Michael Welling (@WellingMichael) May 1, 2017
Critics have called the move a "coup" and a bid by Maduro to cling onto power at all costs.The Opposition have been demanding general elections to try and end the socialists 18-year rule.
President of the National Assembly Julio Borges;
"I am saying with no exaggeration this is the most serious coup in Venezuelan history. Nicolas Maduro is dissolving democracy, dissolving the republic. In the face of that, the MP's of our national assembly and the Venezuelan people are called on to revolt."
Earlier there were more clashes between protesters and police.
Opposition leaders accuse Maduro of running Venezuela's oil-rich economy into the ground.
Millions are struggling to eat regularly and afford basic medicines.
Twenty nine people have been killed and hundreds injured in unrest that began in early April against Maduro, the unpopular 54-year-old successor to Hugo Chavez.