Hamas accepts Palestinian state along 1967 borders
Comments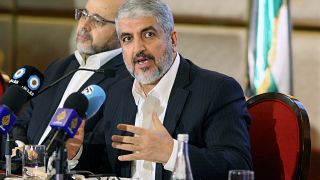 The Palestinian movement Hamas has declared for the first time its willingness to accept a Palestinian state along the 1967 borders, without recognising Israel.
Presenting a new document, the group which controls Gaza, dropped its long-standing call for the destruction of Israel.
The rhetorical shift is being seen as an attempt by Hamas to soften its image. The Israeli government, however, dismissed it as a PR stunt.
The Israeli Prime Minister's spokesperson David Keyes said: "Hamas' motivation clearly is to alleviate some of the international pressure against it and what they are trying to do is basically fool the world to say we are not as bad as you think we are, but when you look at what they tell their own people in Arabic, on Al-Aqsa TV, on Hamas' TV stations, in their mosques, in their schools, they are calling on a daily basis to destroy Israel."
The policy document, which was presented by Hamas' exiled political leader Khaled Meshaal in Doha, also drops its association with the Muslim Brotherhood. A move, widely seen as an effort to improve ties with Gulf Arab states and Egypt.
Meshaal also said Hamas' fight was not against Judaism as a religion but against what he called "aggressor Zionists".
Hamas' 1988 founding charter calls for the creation of a Palestinian state which includes present-day Israel and affirms ties to the Muslim Brotherhood.
In 1967 Israel captured Gaza, the West Bank and East Jerusalem in a war with Arab states. Israel withdrew from Gaza in 2005. A state along 1967 borders is the goal of Hamas' main political rival, the Fatah movement led by Mahmoud Abbas.
The announcement by Hamas comes two days before Abbas is due in Washington, and days after President Donald Trump said he may travel to Israel this month. In an interview with the Reuters news agency Trump said he saw no reason why there should not be peace between Israel and the Palestinians.