Macron's symbolic Holocaust memorial visit
Comments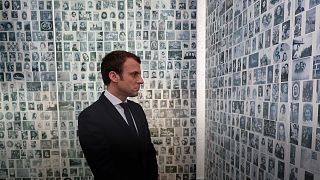 French presidential hopeful Emmanuel Macron has made a symbolically charged campaign visit to the Shoah Holocaust Memorial in Paris. The move is widely seen as a thinly veiled reminder to voters about the National Front's reputation for antisemitism.
France's Macron honors Holocaust victims, vows 'Never again' (from AP</a>) <a href="https://t.co/ek5TodQ02Y">https://t.co/ek5TodQ02Y</a></p>&mdash; Ken McCafferty (kenm77) April 30, 2017
Meanwhile his opponent, the far-right candidate Marine Le Pen reportedly laid a wreath at a Holocaust memorial in Marseille, just days after her choice for interim party leader of the National Front (FN) had to step aside amid allegations he denied aspects of the Holocaust.
Marine Le Pen's father Jean-Marie, infamously described the Holocaust as "a detail in history" and she herself said only last month that France was "not responsible the round-up" of Jewish people in Paris during World War II.
Le Pen is a far-right Holocaust revisionist. Macron isn't. Hard choice? | Hadley Freeman https://t.co/bggWoJKH15

— Bronte le chat (@BronteWeinbren) April 30, 2017
Addressing the press, Macron announced:
"Today we have a double duty: the duty of remembrance and the duty of making sure this does not happen again, by refusing the moral weakness that can tempt some; the relativism that can tempt others; and the negationism, in which some have taken refuge."
Elsewhere on the campaign trail, Macron got the backing of former centrist and political heavy-weight, Jean-Louis Borloo. He told French Newspaper, Journal de Dimanche:
"I want to get completely involved. I want to help Emmanuel Macron. If I'm needed I'll respond with my heart, my determination and my experience. The building is collapsing, and should I let that happen? I'm ready to roll up my sleeves for two or three years and lend a hand".
Though retired from the political arena, Borloo still has a lot of clout with French voters. This will come as a welcome boost for Macron, one day after Le Pen made an electoral pact with "Stand-up France", a smaller right-wing party led by Nicolas Dupont-Aignan which gained around 5% of the vote in the first round of the election.
Présidentielle : deux Ch'tis, Borloo et Boon, derrière Macron https://t.co/XMzj3RsdlZ

— Ute Hopi (@jo_ute) April 30, 2017