N. Korea: New missile defence system ready in days
Comments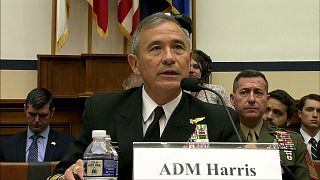 President Trump's administration signalled that it would put sanctions and diplomacy at the heart of the US strategy on North Korea.
"We want to bring Kim Jong Un to his senses, not to his knees"

US Commander, Asia-Pacific
The pledge came as part of a highly unusually briefing of the entire Senate at the White House. Senators had previously called for a clear strategy to deal with what they considered to be a major national security issue after repeated missile tests by Pyongyang.
#Iran#News#Us#Senators arrive at White House for classified #North_Korea threat briefing https://t.co/iS8nRFh9dopic.twitter.com/kNrctBzBh0

— iraneAzad – FreeIran (@irane_Azad) April 26, 2017
Military solutions still on the table/h3>
Despite the US administration's emphasis on a peaceful resolution, the US's top commander in the Asia-Pacific region, told a congressional hearing that its new missile defence system would be operative in days.
He said:
"With every test, Kim Jong Un moves closer to his stated goal of a pre-emptive nuclear strike capability against American cities, and he's not afraid to fail in public. Defending our homeland is my top priority, so I mus assume that Kim Jong Un's nuclear claims are true."
He argued that all options remained on the table, saying that "we want to bring Kim Jong Un to his senses, not to his knees".
South Korea welcomes US approach/h3>
After the briefing of the Senate, officials in Seoul welcomed the approach taken by the US. A spokesman for the South Korean Foreign Ministry said:
"This is the strongest-ever US move related to the North Korean nuclear issue. Our government is continuing a close cooperation with the US against North Korea, based on a common awareness of the urgency and gravity of this issue."
The missile defence system/h3>
The Terminal High-Altitude Area Defence system (THAAD) is capable of shooting down short- and medium-range ballistic missiles in the terminal phase of their flight, using kinetic energy to destroy the incoming warhead.
The system has a 200 kilometre range and can reach an altitude of 150 kilometres.
THAAD has, however, proved controversial in South Korea, where protesters are worried that it makes their country more of a target.
Chinese reaction/h3>
Whilst North Korea has shown no signs of backing off, China, its biggest ally, has welcomed the willingness of the US to use talks to resolve the crisis.
Its opposition to the deployment of THAAD is well-known.
China, like America, wants North Korea to abandon its nuclear programme https://t.co/Ak7bSwrcPQ

— The Economist (@TheEconomist) April 27, 2017