Iranian footballer "banned from national team" for playing abroad without hijab
Comments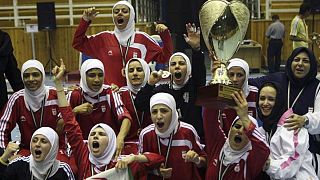 An Iranian footballer says she has been banned from the national team after playing abroad without wearing her hijab.
Shiva Amini, pictured standing above her team mates in 2008, said a decision by officials has forced her off the team.
However, the Iranian Football Federation said Ms Amini has not played for the team since 2009, after becoming injured.
In a post on her Instagram page, the footballer claimed she had been kicked off the team after playing a friendly game abroad while not wearing her hijab.
She published photos on her private Facebook and Instagram of the match, which she played alongside men, in Switzerland and Italy.
"شیوا امینی"، بازیکن قدیمی فوتسال زنان به خاطر انتشار تصاویری بدون پوشش و حجاب اجباری در صفحه اینستگرام شخصی اش، از بازی در ایران محروم شد. pic.twitter.com/FwgU7sKps4

— Taghato (@taghato) April 26, 2017
In an interview with Iranian journalist, Masih Alinejad, she said: "I wasn't even in an official game where I had to represent the Islamic republic."
She said government officials accused her of breaking two moral and anti-Sharia laws; playing alongside men and for playing without her hijab while dressed in shorts.
However, the IFF said Ms Amini last played for the national team in 2009 during a tournament in Vietnam.
An injury in 2010 saw her dropped from the team, a statement on the federation's website said.
But it added that players of the female national team are expected to adhere to Islamic cultural values.
She is not the only Iranian female athlete to be excluded from playing at a national level.
Dorsa Derakhshani, Iranian chess champion, was expelled from the national team for not wearing the veil during an independent tournament in Spain.