Eurozone finance chiefs admit Greece will need debt relief
Comments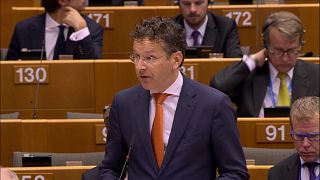 The chairman of the eurozone finance ministers group is promising a deal by the end of May to break the deadlock preventing Greece from getting much-needed bailout loans.
Jeroen Dijsselbloem also admitted for the first time that some of Athens debt will have to be written off for its public finances to become sustainable.
Speaking in the European Parliament, he departed from the line taken by eurozone finance ministers until now on debt relief: "In terms of next steps I expect all of this will allow all institutions to come to the conclusions that the numbers add up and the IMF to financially participate."
The International Monetary Fund had insisted it would only take part in the emergency loan programme if there were debt relief.
I will return with a fair agreement for #Greece, #Dijsselbloem tells EU Parliament https://t.co/Ndh2aN9kLFpic.twitter.com/1Q8d0yQLua

—

ANA

-

MPA

news (@amna_newseng) April 27, 2017
On Greece's economic reforms he said: "The authorities committed to legislate up-front further pension and income tax reforms, each worth about one percent of GDP."
Dijsselbloem said the reforms now being negotiated between Athens, the eurozone governments and the IMF were not about more austerity, but rather boosting Greece's economic growth.
Talks between them had been stalled for months on a failure to agree on changes to the Greek pension and tax system between now and 2020.