Death toll after Taliban attack at Afghan army HQ rises to up to 150
Comments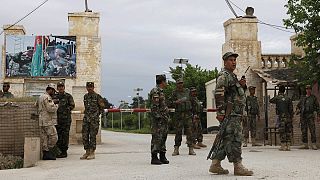 Taliban insurgents killed and wounded more than 100 Afghan soldiers on Friday when they stormed a major military base often used by foreign military advisers, the Ministry of Defence said.
The figures has risen from early estimations of dozens killed and wounded.
However, one Afghan officer claimed the death toll could be as high as 150.
The attack, for which the Taliban claimed responsibility, was launched near a mosque on the base in Mazar-i-Sharif just as soldiers were leaving Friday prayers.
The attackers were disguised in Afghan army uniforms and driving in military vehicles, according to an army spokesman. They talked their way past checkpoints saying they were carrying wounded soldiers, he said.
A U.S. official in Washington put the toll at more than 50 killed and wounded. Afghan officials offered conflicting numbers of casualties in the incident.
The base is responsible for much of northern Afghanistan, including Kunduz province, which has lately seen heavy fighting.
A number of German and other foreign soldiers are based there, as part of a NATO-led mission to train Afghan forces, but none were said to have been hurt.
#UPDATE US says "More than 50 Afghan soldiers have been killed" in Taliban attack near city of Mazar-i-Sharif https://t.co/hQuqcEUgLV

—

AFP

news agency (@AFP) April 21, 2017