Erdogan slams OSCE ahead of constitutional referendum
Comments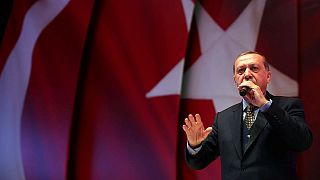 With one day remaining before Turkey's constitutional referendum, polls suggest a narrow 51 percent win for the yes campaign.
Turkish President Recep Tayyip Erdogan, who has long pushed for the vote on shifting to an executive presidential system, has slammed an interim report on the campaign environment, written by election monitor the OSCE.
"Now the Organization for Security and Co-operation in Europe says if the result is 'yes', that means there are a lot of problems. Who are you? First of all, you should know your place. This is not your duty", he told a crowd in Konya.
Over two weeks spent observing referendum campaigning, the OSCE found that supporters of the 'No' campaign faced bans, police interventions and violent clashes at their events.
The opposition CHP Party is against the 18 proposed reforms. Its leader, Kemal Kilicdaroglu, gave this message to an audience in Istanbul:
"Let's protect the Republic together. Let's not jump into an adventure and destroy our Republic. Let's not gamble on the future of our beloved children. Let's not sacrifice the chance to have equal opportunities, equality in front of justice and our right to call the authorities to account."
Analysts predict the kingmaker could be the far-right MHP Nationalist Movement Party.
But, it is uncertain how the party will vote.
Its leader's decision to back Erdogan's bid for more powers created a huge rift in the party. It's now predicted to have lost so much support it could be wiped out of parliament.